Trey Canard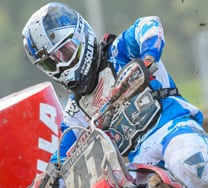 Off-Road Racing
Personal
Born: September 17, 1990 Shawnee, OK Residence: Elk City, OK National #: 41 Professional Debut: 2007
Career Highlights
2013 4th AMA Motocross Series 6th AMA Supercross Series
2012 – Out due to injury
2011
 5th AMA Supercross Series (shortened season due to injury)
2010—Competing primarily in the Supercross Lites West class, Canard battled for the title with Jake Weimer and Wil Hahn. Canard had two wins and two second-place finishes to finish third overall. Filling in for injured Team Honda Supercross rider Andrew Short on select rounds, Canard also logged five podium finishes in the premier class. The highlight of Canard's season came outdoors, however, where he won the 250 Motocross title. Canard competed on AMA Team USA in the 2010 Motocross of Nations, where the Americans won the overall. Raced for Geico Powersports Honda.
2009—After missing two rounds of the AMA Supercross Lites West Series, Canard finished the season with his highest finishes being a first, two thirds and a fourth to notch sixth overall. In the 250 MX, Canard was running strong, with three seconds and three thirds before an injury at mid-season. Rode for the Geico Honda Team.
2008—Canard won the AMA Supercross Lites East Region Series title with four wins and one additional podium finish. Raced a limited AMA Motocross Lites Championship season but earned an overall podium finish at Buchanan, MI. Raced with Torco Racing Fuels Honda team.
2007—Canard raced a limited AMA Motocross Lites Championship, earning his best overall finish of fifth place at Wortham, TX. Won the AMA Horizon Award. Raced with Sobe/No Fear Honda team.