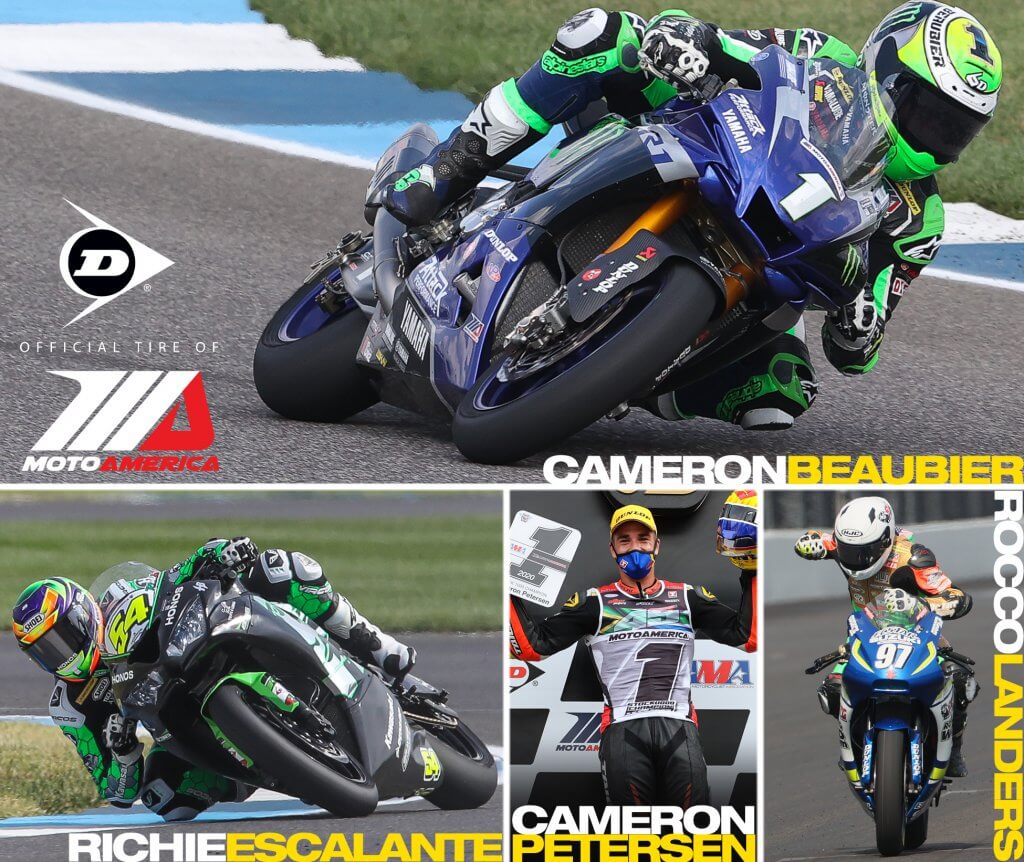 Rancho Cucamonga, CA: Dunlop has been the AMA MotoAmerica spec tire for all classes since the series began in 2015, and has provided an unbroken record of support for professional American road racing dating back decades. Like so many sports today, this year's MotoAmerica championships saw its share of challenges due to Covid, and the compressed season yielded familiar and surprising results.
Superbike: Cameron Beaubier
The 2020 MotoAmerica championships wrapped up this past weekend at the fabled Indianapolis Motor Speedway, the penultimate round, and it was Yamaha's Cameron Beaubier who won the Superbike championship for the fifth time. He entered the season finale with 13 victories in 14 races, but Indy was no cake-walk for Beaubier: the three-race weekend saw a surprise winner—Italian Lorenzo Zanetti took his first MotoAmerica win when Beaubier crashed out—and Bobby Fong won the second race. Beaubier finished on the podium in the two weekend races he finished to lock up the superbike championship with a 97-point cushion over teammate Jake Gagne.
Superstock: Cameron Petersen
Like Beaubier, the other Cameron had a dominant season, winning all but three Superstock 1000 rounds, and taking second after an infraction cost him the post-race win at Indy. Petersen's championship was his first in MotoAmerica competition, and something he had dreamed of accomplishing his whole life. It was by far his best season to date, and he hopes the momentum will carry him to a Superbike career in 2021.
 Supersport: Richie Escalante
Richie Escalante made history at Indy, becoming the first Mexican to win an AMA National Road Racing Championship when he wrapped up the Supersport title on Sunday with another perfect weekend. He won thirteen times, often by wide margins, to take the championship by 70 points over Sean Dylan Kelly, the only rider to beat Escalante all year long.
Twins Cup and Junior Cup: Rocco Landers
Though other riders dominated classes this year, no championship run was quite like that of Rocco Landers. He clinched his second consecutive Junior Cup title early in Alabama, then scored another perfect weekend at The Brickyard to make it 13 race wins in a row. By also taking the Twins Cup championship, Landers became the only double-title winner of 2020, putting together another undefeated weekend at Indy to boost his win record to eight in the class, including the last seven races in a row.
"MotoAmerica continued to evolve in 2020 with more participants and greater prestige, attracting top riders from outside the U.S. to compete in the series," said Mike Buckley, Senior VP, Sales and Marketing, Dunlop Motorcycle Tires. "Despite the challenges of putting on a racing series in today's environment, MotoAmerica staff, our Dunlop technical staff, and all the racers and teams deserve a big thanks for their commitment to making the 2020 championship chase a memorable one."