Martin Cardenas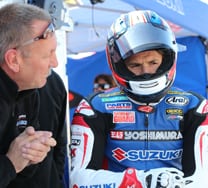 Road Racing
Personal
He made a name for himself by capturing back-to-back titles in the Latin American Supersport Championship and Spanish Supersport CEV Championship during 2003 and 2004, respectively. The Colombian then went on to the 250 MotoGP series where he became the first ever Colombian to compete. Following a nasty crash that resulted in a broken collarbone in 2006, Cardenas was unable to continue in the series due to a lack of strength.
Shortly after moving to the U.S. in 2007 Cardenas became involved in AMA Superstock. He was offered a ride with the M4 Suzuki squad as a replacement for an injured rider, and since then he's become a staple for the Suzuki team.
In 2009 Cardenas appeared as a serious threat for the Daytona SportBike title. With seven wins and three podiums, Cardenas was well on his way to victory when a major crash at VIR removed him from the championship running. Cardenas returned for 2010 in a determined fashion, however. Posting nine wins and another three podiums, Cardenas claimed his first title in the U.S.
Cardenas returned back to the AMA Pro GoPro Daytona SportBike series in 2012 and picked up right where he left off as he finished first in the standings. He made the most of his 19 starts; accounting for eight victories and 13 overall visits to the podium.
Enjoys motocrossing and mountain biking.
Career Highlights
2013- 1st overall AMA Pro SuperBike
2012- 1st AMA Pro Daytona SportBike
2011- 4th AMA Pro SuperBike
2010 – Won the 2010 AMA Pro Daytona SportBike Championship, taking victory in a record nine of eighteen races while finishing on the podium thirteen times in all.
2009 – Cardenas emerged as a serious title contender in his first season of AMA Pro Daytona SportBike competition, winning seven races – Road Atlanta, Barber (2), Infineon (2), Road America, Topeka – and earning ten podiums to finish third in the point standings. An injury in a VIR crash quelled his title hopes but Cardenas proved his toughness by attempting to race despite a compound fracture. Raced for Team M4 Suzuki.
2008 – Finished seventh in Formula Xtreme, despite missing two races, on the strength of six top-four finishes. Closed the season with three third-place showings and fourth in the Laguna Seca finale. Missed three races but still managed to finish 11th in AMA Pro SuperSport for the second year, highlighted by a second-place finish at Mid-Ohio and fourth at Road Atlanta. Also partnered teammate Chris Ulrich to win the AMA Pro SunTrust Moto-GT 8 Hours of Daytona. Raced for Team M4 Suzuki.
2007 – Raced in AMA Pro SuperSport, earning podium finishes at Miller Motorsports Park, Virginia and Laguna Seca to finish 11th in the points championship. Also raced Formula Xtreme, earning a podium finish at Road America. Raced with Team M4 Suzuki but also made limited AMA Pro Superbike starts with Tacoma Kawasaki, earning three top-15 finishes.
2006 – Competed in 250 MotoGP for Spanish Team Honda BQR and was later picked up by Repsol Honda only to suffer a broken collarbone in his first race weekend that slowed him for the rest of the season.
2005 – Raced in 250 MotoGP for Team Aprilia Germany.
2004 – Raced in 250 MotoGP for Team Aprilia Germany.
2003 – Finished seventh in Spanish CEV series on a Luis d'Antin Yamaha while also winning the Latin American SuperSport Championship in his native Colombia.
2002 – After a successful tryout in 2001, landed a fulltime ride in Spanish CEV.
Early Career – Began racing in Motocross in his native Colombia at the age of 11 and went on to win several 125 championships. First came to the U.S. and turned pro in 2000.