Josh Herrin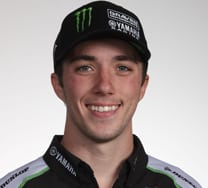 Road Racing
Personal
Born: May 23, 1990 Glendale, CA Residence: Dublin, GA National #: 2 Professional Debut: 2006 Hobbies include motocross, supermoto, and hanging out with his friends.
Career Highlights
Josh Herrin has spent a majority of the 2013 campaign battling for the win with teammate Josh Hays, and his consistency has paid of as he is currently leading the points in the SuperBike class. He has logged a total of three wins this season, with a worst finish of sixth. In 2012, Herrin made the transition into the AMA Pro National Guard SuperBike. He started 18 races and recorded 14 top 5 finishes, three 2nd place finishes, and ultimately taking fourth in the standings. He competed in AMA Pro Daytona SportBike in 2011, finishing the season second in the points. Earned a pole at Mid-Ohio and five victories, at New Jersey, Barber, Road America (2) and Miller.
2010 – Heading into the Mid-Ohio round, Herrin leads the Daytona SportBike points chase with three wins: Daytona International Speedway, Auto Club (Race One) and Road America (Race One). Herrin also earned a pole at the Road America round, and has finished second or better in six of the season's nine races.
2009 – Finished second in the AMA Pro Daytona SportBike point standings. Placed second in the Daytona 200, had 13 top-5 finishes and ended the year with four wins in a row, sweeping both VIR and NJMP. Raced with the Graves Motorsports Yamaha team.
2008 – Finished fifth in the AMA Pro SuperSport standings with a victory at Barber Motorsports Park, three more podium finishes and a pole at California Speedway. Also led the most laps in the Daytona opener before finishing second. Raced with the Graves Motorsports Yamaha team.
2007 – Raced in AMA Pro SuperSport, earning a win at the September race at Laguna Seca and two additional podium finishes. Raced with the Graves Motorsports Yamaha team.
2006 – Raced a limited AMA Pro SuperSport season, but earned a podium finish at Miller Motorsports Park and took four additional top-10 finishes in the series. Raced the with Graves Motorsports Yamaha team.
Early Career
Turned Pro in 2006 a year after winning the WERA 600 National Championship. He also won the 2004 USGPRU 125 title at the age of 14. Prior to that he raced mini bikes and YSR 50s and was invited to compete in the World Mini GP Festival in Valencia, Spain, where he hit over 100 mph on a mini GP bike and was the top scoring American.