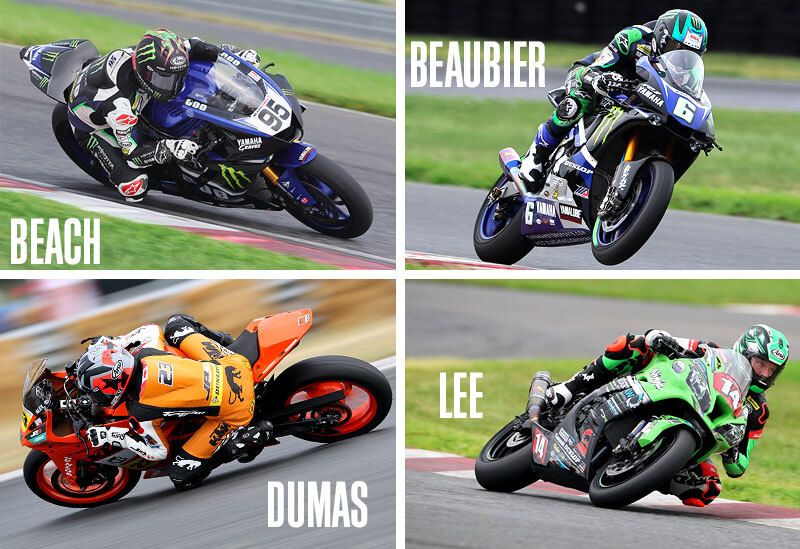 Millville, New Jersey: On a cold and rainy weekend at the New Jersey Motorsports Park, four riders clinched championships in harrowing conditions with one round of the 2018 series still to come.
Cameron Beaubier won his third MotoAmerica Superbike championship on Sunday with a decisive win, leading from the start on his Yamaha R1 and stretching his margin of victory to the end of the rain-shortened race. It was Beaubier's eighth win of the season, pushing his Superbike career win total to 34, and tying him with Miguel Duhamel for third on the all-time Superbike win list.
JD Beach did much the same over the weekend on his Yamaha R6. He locked up the 2018 Supersport championship with a second-place finish on Saturday, and then underscored the title with a big win on Sunday. Despite stiff competition in the class, Beach was nearly untouchable all season, winning eleven of the 15 rounds.
In the Junior Cup, KTM rider Alex Dumas kept his cool in the slick track conditions and clinched the 2018 championship with a seventh-place finish. Five different riders posted wins in this highly competitive class this season, but Dumas dominated with eight wins.
The Stock 1000 class also saw a champion crowned as Kawasaki rider Andrew Lee sloshed his way to a fifth place finish to wrap up the 2018 championship on Sunday. Lee was consistent all season, posting four second-place finishes and two wins before clinching in Jersey.
Dunlop is the official tire of MotoAmerica, and all classes race on Dunlop tires made in Dunlop's Buffalo, New York manufacturing plant. We extend well-earned congratulations to the 2018 MotoAmerica champions.