Road Racing
For decades, Dunlop has been involved with racing at the highest levels and has been a major player in national and international motorcycle racing news. From international Grand Prix competition to US national AMA Supercross, Motocross, road racing and off-road competition, Dunlop has earned an unparalleled championship record.
---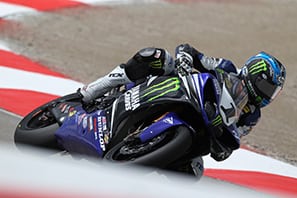 Involvement
This racing success yields new tire technology developed with input from many of the best riders in the world. And these innovations in motorcycle tire technology quickly make their way to the creation of new Dunlop motorcycle tires.
Better yet, while Dunlop pursues racing at the highest levels, we also expend considerable efforts to support motorcycle road racing at the grass-roots level and deliver world-class racing tires, as well as top-level service to local and regional road racers and track-day riders. Specifically, in 2011 Dunlop established a motorcycle road racing contingency program that will top $1.1 million in available postings for club racers throughout a wide variety of racing classes conducted by 17 popular sanctioning organizations all across the USA.
To learn more about Dunlop's 2019 Road Race Tire Vendors, visit our vendor support page.