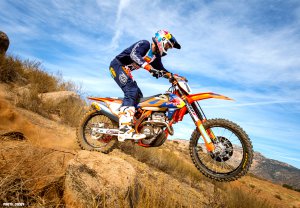 Ever wonder how EnduroCross riders find traction over the extreme terrain they compete on? Dunlop's D756EX has been winning EnduroCross for years, and now it's been replaced with the all-new Geomax® AT81 EX that features even greater grip and performance.  
• The new AT81 EX was built on the same winning tread pattern and construction as the AT81, but adds ultra grippy compounds to the equation. 
• Available in 110/100-18 rear size, the AT81 EX is made for a wide variety of extreme conditions—not just EnduroCross—and was developed with the help of Cody Webb and Destry Abbott. 
• AT81 EX tread block shape and distribution plus flexible knobs help the tire penetrate down through the surface dirt for extra traction across a broad range of off-road applications.
• The tire carcass features two nylon plies for added durability. 
• Lateral grooves on the shoulder knobs provide additional biting edges and also allow the knobs to be more flexible.
• Rear center blocks are arranged in-line to provide a larger contact patch for maximum traction.
• Dunlop's "plush pad" recess design between tread blocks enhances compliance for bump absorption and ride comfort.