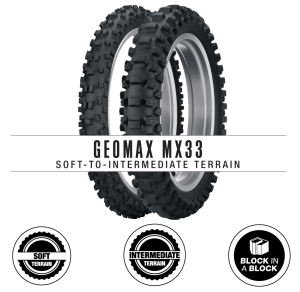 The Most Technologically Advanced Off-Road Tire Dunlop Has Ever Made.
Buffalo, NY: The Geomax® line has been the top choice of AMA pro and amateur Motocross and Supercross riders since its introduction in 2010. Now the MX33—which replaces the popular MX3S—introduces new technologies in construction, compound and tread pattern, that sets the bar at a whole new level.
This new tire delivers extraordinary handling performance even on a wide range of soft-to-intermediate terrain. The MX33 is available for a wide array of bikes from 50cc to 450cc, and includes a new 120/90-19 size.
Multiple Block Distribution
In addition to creating an aggressive look, new Multiple Block Distribution technology increases the number of knobs on the shoulders and center of the tires, and also varies the height and angles of the knobs within the tread pattern. This translates to more biting edges and more traction, creating superior grip and increased handling performance.
Block-In-A-Block Technology
After the great success of Dunlop's patented Block-In-A-Block technology on the MX3S rear tire, Dunlop has improved this technology by altering the shape of the interior block. This new diamond-shaped block is larger, adding more surface area and two additional angles to improve traction.
Dunlop has also added Block-In-A-Block technology to the front tire for the first time, creating a new industry standard for handling and grip.
Advanced Apex Design
Not only does the Geomax MX33 look remarkably different than its predecessor, but the MX33 also has many new components under the tread. The new construction of the front and rear tire features a taller, thinner apex. Known as Advanced Apex Design, the same sidewall material used in the MX3S is now distributed in a slimmer, but taller apex. Without adding weight, this technology delivers superior shock absorption, uniform rigidity in the sidewall, and a smoother ride and firmer feel. (Applies to 18", 19" and 21" sizes.)
Carcass Tension Control System
In this new design, Dunlop optimizes the distribution of tension of the components so the tire absorbs more shock, but flexes when necessary to smooth out ride characteristics, which allows the bike to track in a straighter line.
All-New Compound
The MX33 also incorporates a new rubber compound with a higher molecular weight polymer to improve durability and a carbon micro-particle to increase grip.
"At Dunlop, we pride ourselves on listening to our customers, and not just the pro-level Supercross riders, but the everyday riders as well," said Broc Glover, Sr. Manager, Off-road Motorcycle. "One of the main areas we wanted to improve upon from the MX3S was durability. A change in compound, and the addition of the tie-bar design between the knobs, allowed us to not only achieve this goal but also improve performance."
Availability
Front
| | |
| --- | --- |
| Size | Load Speed |
| 60/100-10 | 33J |
| 60/100-12 | 36J |
| 60/100-14 | 29M |
| 70/100-17 | 40M |
| 70/100-19 | 42M |
| 80/100-21 | 51M |
Rear
| | |
| --- | --- |
| Size | Load Speed |
| 70/100-10 | 41J |
| 80/100-12 | 41M |
| 90/100-14 | 49M |
| 90/100-16 | 51M |
| 100/100-18 | 59M |
| 110/100-18 | 64M |
| 120/90-18 | 65M |
| 100/90-19 | 57M |
| 110/90-19 | 62M |
| 120/80-19 | 63M |
| *120/90-19 | 66M |
*New size