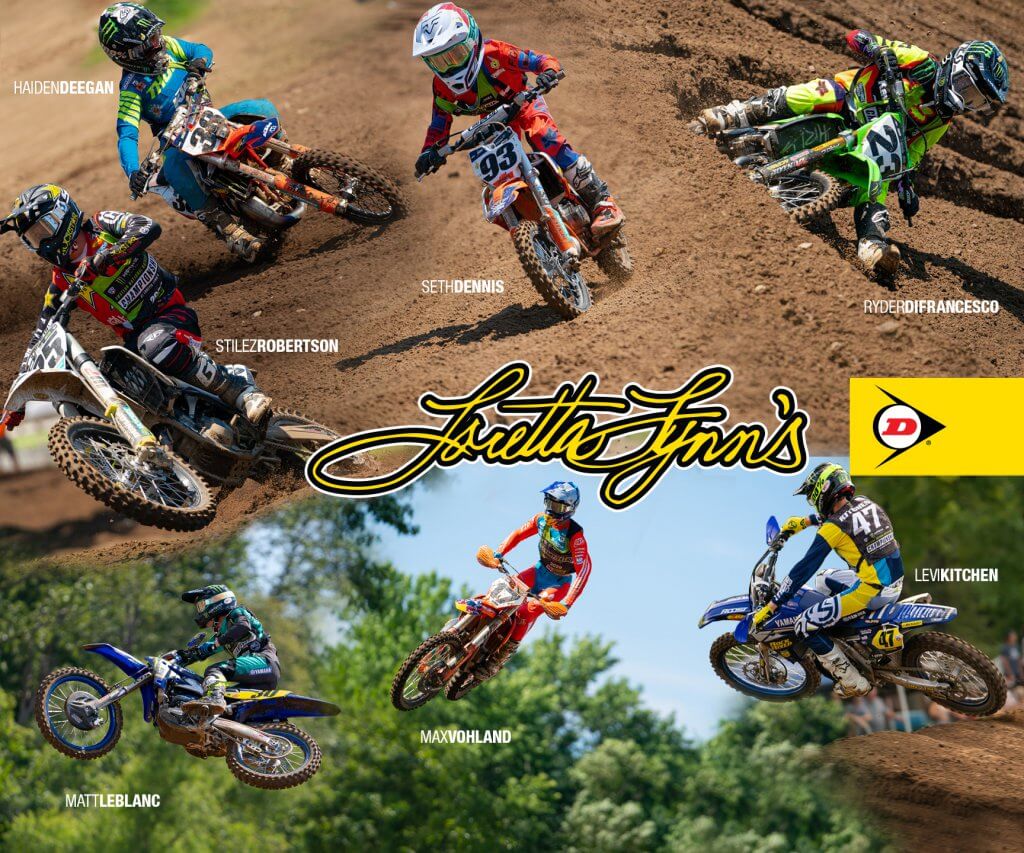 Buffalo, NY: Dunlop riders at this year's Loretta Lynn's amateur nationals won 32 of a possible 36 titles. That gives Dunlop a win record at Loretta's nobody can touch: In the past seven years, Dunlop riders have won an incredible 241 out of 255 possible championships at Loretta's—including winning every title two years in a row.
This year, Team Dunlop Elite riders took six championships as did Team Dunlop Elite alumni, bringing the Team D total to 12 titles. Among the Dunlop Elite riders, Haiden Deegan and Ryder DiFrancesco both took two titles in commanding fashion, winning all six of their motos, and Seth Dennis grabbed two more titles for the team. Dunlop Elite alumni rider Max Vohland also swept his six motos to take two titles, and Stilez Robertson and Matt Leblanc added two more titles each to the alumni count.
Standout performances earned Team Dunlop riders high honors this year with DiFrancesco taking the AMA Motocross Youth Rider Of The Year Award, and Robertson earning the AMA Nicky Hayden Horizon Award in his last amateur race before turning pro. Dunlop-mounted Levi Kitchen took the AMA Motocross Amateur Rider Of The Year Award, won all six of his races, and set the fastest times throughout the week in the B class.
"It was great week with great weather and awesome racing," said Rob Fox, Amateur Motocross Support Manager. "The MX33 was the tire to have this week, and I want to thank all the champions for choosing Dunlop."
For sponsorship opportunities and more information, visit TeamDunlop.com.