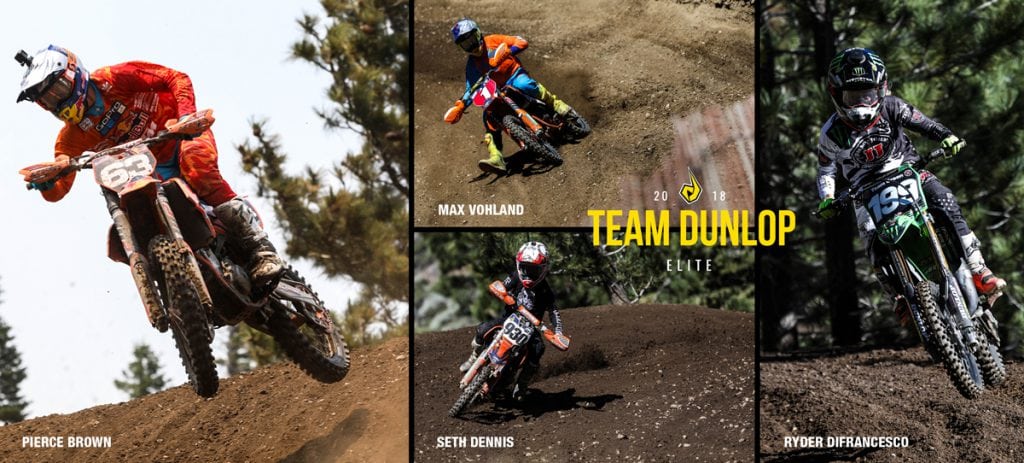 Buffalo, NY: At this past weekend's historic Mammoth Mountain Motocross, there were a total of 28 titles up for grabs between mini and big-bike classes, and Dunlop riders won every one for a perfect sweep of the event. Dunlop's all-new Geomax® MX33 motocross tire proved to be an advantage for the majority of riders.
Dunlop riders took all nine mini titles, and Team Dunlop Elite riders won six of those championships, with Ryder DiFrancesco taking three titles, Max Vohland winning two, and Seth Dennis taking one championship.
In the big bike categories, Dunlop riders won all 19 overall championships, and that list of championships included Team Dunlop alum Pierce Brown who went home with multiple titles.
"It was another beautiful event this year with great weather and racing," said Dunlop Amateur Motocross Manager Rob Fox. "We're thrilled so many riders chose to compete on the all-new MX33, and look forward to another great season of amateur racing."
Team Dunlop is one of the largest amateur support programs in the nation, and is open to eligible up and coming racers. Visit teamdunlop.com today to check out all the benefits of membership in the Team Dunlop community.