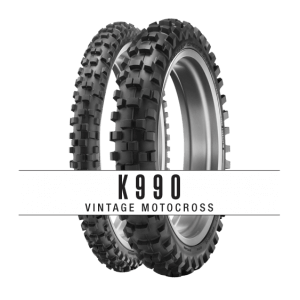 Buffalo, NY: When you look back at the history of Motocross, Dunlop tires have played a major role in helping riders win titles; from the world championships to the AMA Nationals and amateur races across the globe.
Now Dunlop is introducing the classic K990 in a 90/100-18 rear and 70/100-21 front. The rear size mimics the classic 3.50-18 size of yesteryear and is an ideal choice for small-bore vintage bikes that compete in both the 100cc and 125cc classes.
Off-road vintage racing enthusiasts might recall the Dunlop K990, the tire of choice for many racers in the 1990s. Back in the day the K990 offered cutting edge performance, and is now being reintroduced to offer today's vintage riders an authentic choice in tires.
"No other motorcycle tire brand has a record of supporting motocross as long and consistently as Dunlop," says Broc Glover, Sr. Manager, Off-road Motorcycle, "so it makes complete sense for Dunlop to offer tires for riders who enjoy participating in all forms of motocross and that of course includes Vintage. Recently I've been racing in some of these events and I realized just how difficult it is for these competitors, and many enthusiasts who work on vintage motocross restorations, to find the proper tires for their bikes, especially in the smaller 18-inch rear size. Now the K990s offer an authentic vintage choice with a championship heritage."