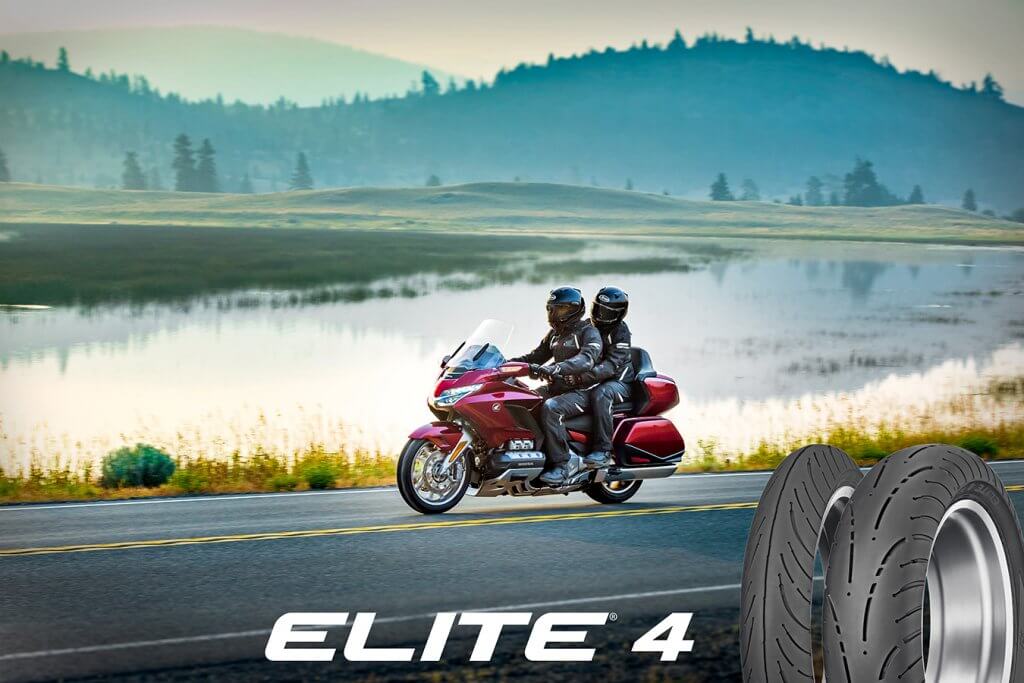 Buffalo, NY: The idea was simple: Build a premium touring tire with great performance and outstanding mileage, then make it available in sizes to fit hundreds of different motorcycles dating back to the early 1980s. That's the Dunlop Elite® 4 and it's been the go-to tire for serious touring riders since its introduction.
Now Dunlop has added a 200/55R16 rear size as an aftermarket option to fit 2018 and newer Honda Gold Wings.
The hallmark of the Elite 4 is Dunlop's exclusive MT Multi-Tread™ rear tire construction. Multi tread technology puts a high-mileage compound in the center of the tire, and high-grip compounds on each shoulder for a unique combination of high mileage and performance that single compound tires can't match. These multi tread tires also have the Elite 4's tread pattern and is designed to effectively evacuate water, providing exceptional wet-weather grip for all-weather riders.
The current Dunlop Elite 4 size line-up is a follows:
Elite 4 Front
130/90B16        73H      45119516
150/80R17        72H      45119300
130/70-18         63H      45119478
130/70R18        63H      45119687
Elite 4 Rear
150/80B16        77H      45119986
160/80B16        80H      45119546
180/60R16        80H      45119319
180/70R16        77H      45119303
200/55R16        77H      45119548
250/40R18        81V      45119895