Best Tires for My Off-Road Motorcycle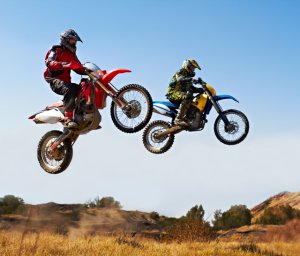 Who has won more than 160 Pro Motocross and Supercross national championships and has been manufacturing off-road motorcycle tires for more than 100 years? Only Dunlop Motorcycle Tires!
The Dunlop lineup of off-road tires is extensive, and there are options for any type of terrain. Some of the tires have notable dirt, sand, and mud handling while others offer a blend of street and back-road terrain capabilities.
When determining the best tires for your off-road motorcycle, you need to decide whether the bike will be used for commuting purposes, as well. If so, you will want to pick a tire that is DOT-certified but knobby enough to let you explore the backcountry.
Geomax Series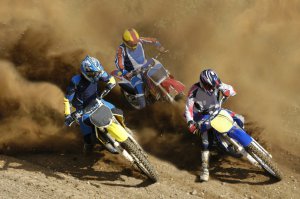 Dunlop's Geomax tire series is perhaps the most impressive on the market. Since its launch, the Geomax series has been a staple of the off-road motorcycle community.
In fact, the winning riders for every AMA Pro Motocross and Supercross title since 2010 had a Geomax tire on their bike! Continue reading to learn more about some of the best off-road tires in the Geomax lineup.
MX33 and MX53
What makes the MX33 and MX53 so special is that they were designed with the input of AMA riders. These tires are built for track racing, and the proof is in their performance.
The MX33 works for soft-to-intermediate terrain while the MX53  works on intermediate-to-hard terrain. Both include the Block-In-A-Block configuration on the rear tire which allows for better grip and prevents sliding.
MX3S
Even though it is only available as a front tire now, if you are riding on soft-to-intermediate terrain, the MX3S is another option to consider. While it performs best in these conditions, road tests have proven that it does have good handling on packed dirt. This is the case for short rides; however, if you are looking for longer adventures on hard terrain, you may want to consider another model like the AT81.
The overall structure of the tire is flexible which allows for improved accuracy on slippery terrain. With this tire, you will be able to stay on course even if the ground does everything in its power to shift and slide your bike. These tires won more than 60 AMA races in 2013, proving their versatility and power.
MX12
Launched in 2017, the MX12 is designed primarily for mud and sand. Unlike some of the other Geomax tires, this model is more agile in the more slippery off-road conditions.
The narrower profile on this tire means that it is easy to maneuver in hard-to-reach areas. Plus, it allows you to work out of difficult ruts.
AT81/AT81 RC/AT81EX
The AT81/AT81 RC are great tires for off-road riders who want to stay out riding longer. Despite initial wear when you first take them out on the track, these tires hold their tread for a comparatively much longer time than competing tires.
With this set, you will notice that the rear tire is especially durable. This contributes to the long-lasting capability of the AT81. It also grips the dirt exceptionally well and allows you to move fluidly on rough terrain.
The AT81EX was specifically designed for Endurocross, but is a great off-road tire. The AT81EX utilizes our trials tire compound with its aggressive tread pattern to give you maximum traction and comfort in the most difficult conditions.
EN91
In 2019, the United States won the ISDE World Trophy in Portugal using the Geomax EN91 tires. The EN91 sets itself apart from other Geomax tires with its FIM and DOT-approval status, which means you can use it on both urban and off-road terrain. It is for riders who want to do a little bit of everything but are passionate about off-roading and will see many types of terrain.
D606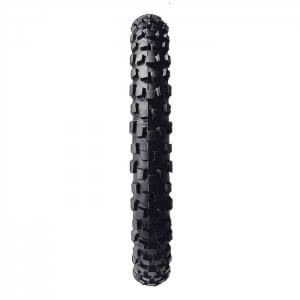 Among Dunlop's other off-roading tires is the D606. It is built for rough terrain but is also DOT-approved for street riding. The knobby tread pattern, which is expected for an off-road tire, performs remarkably well on pavement.
The biggest appeal of the D606 is its dirt performance. It handles exceptionally well on gravel, sand, mud, and other rough surfaces; but you will also be surprised by how easy it is to handle on the road. Overall, this is a great tire for riders who want something that will allow them to commute without wearing down the knobby tread.
D908RR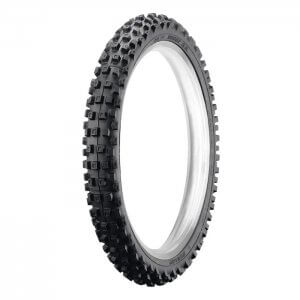 Another DOT-approved tire is the D908RR. This tire works well for heavier off-road motorcycles that require more weight displacement.
One of the benefits of the D908RR is its ability to function with lower air pressure. This makes the tire more malleable against the terrain, leaving a larger footprint that grips more surface area for the best traction. At the same time, because of its sturdy exterior, this does not sacrifice the tire's ability to absorb shock and deter hazards.
Need the best set of tires for your off-road motorcycle? Contact Dunlop Motorcycle Tires today to get started on an order and get back on the roads less traveled.