The Best Tires for My Honda Gold Wing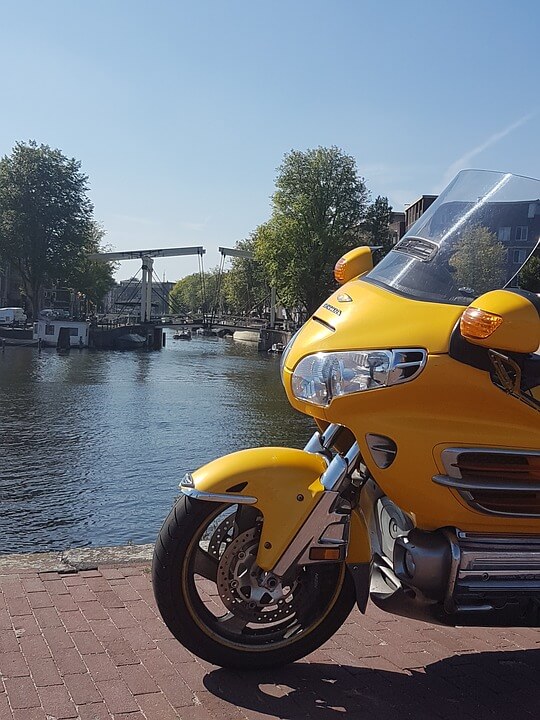 Since the completion of its very first motorcycle in 1949, the Honda Motor Company has manufactured more than 400 million bikes.
But success did not come immediately for the company, which began as a failed pistons manufacturer trying to complete a major deal with Toyota.
After several failures and lessons learned, Honda achieved its goal of producing pistons on a large scale by automating the process and reducing the need for skilled labor.
Not long after it started making bikes, Honda won its first Grand Prix title in the 1960s and went on to become the largest motorcycle manufacturer in the world—a title it still holds today.
In this article, Dunlop will examine the history of Honda's Gold Wing motorcycle, and which tires will best suit your bike depending on the model.
Gold Wing Motorcycles through the Generations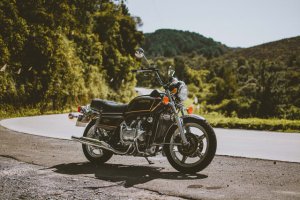 Honda's Gold Wing bike series debuted in the mid-1970s as an answer to the rise of long-distance tour rides. This initial entrance into the market gave riders a more affordable option with the GL1000 series which did away with bulky travel gear and accessories.
After five years, they quickly moved on to the second generation GL1100 motorcycles of the 1980s. The original GL1100 is best-known for its long-distance capabilities. Honda designed this bike to travel further than its predecessor—or any other competitor bikes, for that matter.
An Argentinian man—Emilio Scotto—holds the Guinness world record for "longest journey by motorcycle," a trip of more than 450,000 miles on a Gold Wing 1100 series bike. The GL1100 put Honda on the map as a serious contender in the long-distance market segment. With this success, Honda produced the 1200, 1500, and 1800 Gold Wing models in Ohio up until 2009.
After more than a decade without a new series launch, Honda created the GL1800 Gold Wing motorcycles in the early 2000s. They were manufactured in Ohio up until 2009 before their manufacturing was moved back to Japan. The Gold Wing legacy is characterized by the joy of the cruise—a line of bikes for adventure riders who enjoy the journey more than anything else.
Picking the Right Tires for Your Gold Wing
Gold Wing motorcycles were designed with the open road in mind. Unlike lighter sport bikes which require leaner tire models, the GL series vehicles need tires that are durable enough to withstand high-mileage rides.
Newer GL1800 Series Motorcycles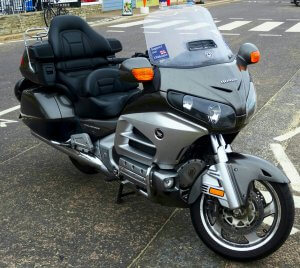 The GL1800 bike is designed to travel far. It has top-notch wind protection features, 40+ miles per gallon, and around 40 gallons of storage for road trips. You will need a tire worthy of that carrying capacity and distance.
Across the board, the Dunlop Elite 4 tire is an excellent option for any GL1800 model. These tires can travel the equivalent of 6 cross-country US trips. They are also uniquely equipped to handle America's backroads and long cruises.
What is great about the Elite 4 tire is that its tread pattern provides an even wear that will prevent you from needing to change tires at different times. The tread also performs well for wet and dry conditions—offering peace of mind for those longer trips.
If you have a GL1800 B/BD/D/DA model, you might also consider the Dunlop D423 tires which are also great for putting on miles.
Overall, the newer bikes have made improvements in the Gold Wing's ability to handle slick conditions, but an Elite 4 Dunlop tire will provide even more stability. Not merely for just wet environments, the Elite 4s will improve your GL1800's curve performance and offer a more reliable, consistent handling experience.
Older GL1100, 1200, and 1500 Series Motorcycles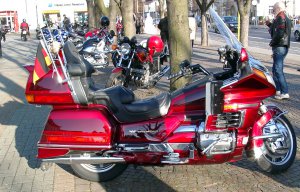 As bikes built for the long-haul, older Gold Wing models are still very much alive and relevant, even 30+ years after their initial launch.
A cursory look at these bikes will reveal their slightly less-bulky design. The profile of these bikes reflects a sportier design approach, although they have the same road trip features that you would want in the newer models.
For many of the bikes produced in the 1990s and prior, you are going to want the Elite 4 or D404 tires that provide touring and cruiser capabilities. They are the best option for the following models:
GL650/I
GL500/I
GL1100/I
GL1100/IA
GL1200I/L/SEI
GL1500SE/A/I
GL1500 C/CT/CF/CD
The center groove on the Elite 4's efficiently directs water away from the bike, part of a tire drainage system that performs extremely well. Also, these rear tires are multi-tread, which allows you to rack up more miles. These tires are a quieter option for riders who value cruise comfort over sport handling.
Overall, Gold Wing motorcycles require high-mileage tires that can address changes in weather without sacrificing the handling. Dunlop manufactures excellent road trip tires like the Elite 4's in North America so that you can experience all of America's backroads as safely and comfortably as possible. Contact Dunlop Motorcycle Tires today to being your order and get your Gold Wing riding as smoothly as possible.