The Best Tires for My Harley-Davidson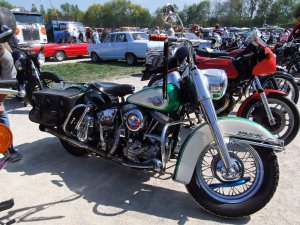 Motorcycle riders are constantly searching for road-worthy tire products that bring satisfaction and control for a great experience on the road. If you are looking for the best grip, mileage, and performance for your Harley Davidson bike, a highly recommended option would be our own tires at Dunlop. There are quite a few custom-designed Harley Davidson Dunlop motorcycle tires to select from.
Whether you are looking for an upgrade or to switch up your riding style, you can't go wrong with Dunlop Motorcycle Tires. With a particular focus on Harley Davidson motorcycles, we have provided you with a mix of both trendy and classic Dunlop tires that are fitting for a variety of riding needs, ranging from touring and cruising to sport and adventure riding..
1. Dunlop American Elite Motorcycle Tires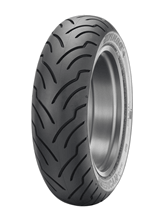 The Dunlop American Elite takes into consideration both recent technological advancements in motorcycle tires and the special needs of Harley riders. These second-generation touring and cruiser tires provide you superior all-around performance. The Dunlop American Elite motorcycle tires are the first and only replacement tires for Harley motorcycles that have been designed, tested, and made in America.
Some of the enticing features of this range of tires include speeds of up to 130 mph, quieter operation, better tread wear under different weather conditions, and a lateral-grip compound for better handling. You also have a variety of options when it comes to sizes and sidewalls.
2. Dunlop D408/407T (OE HD Tires)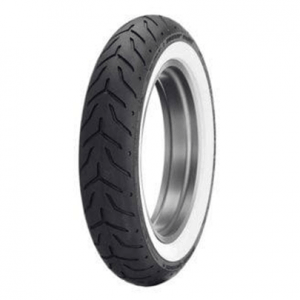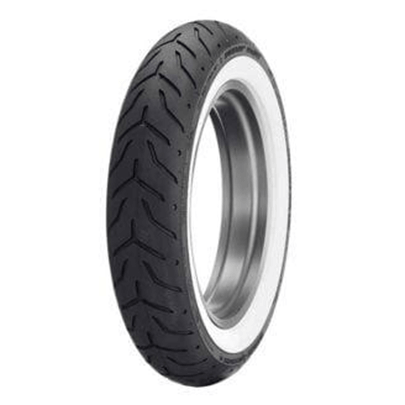 The D408/D407T tires are another great choice for touring and cruising. If you desire long mileage, coupled with a comfortable riding experience and great traction under difficult weather conditions, then you should consider the D408/D407T tires.
Some prominent features include a Multi-Tread rear tire and fortified multi-layer tire structure that delivers long-term strength and balance at highway speeds, as well as on peak lean angles.
3. Dunlop D402 Harley-Davidson Motorcycle Tire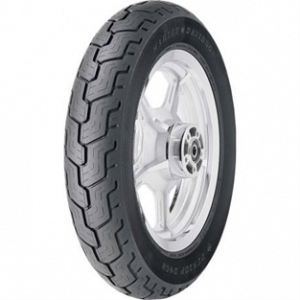 The Dunlop D402 is a touring motorcycle tire built specifically for 2008 and prior FL models that will offer you good mileage, stability, and grip on both wet and dry roads.
The rear tires are constructed with three-ply polyester casings and two fiberglass belts to give your bike a heavy-duty strong frame. Additionally, this tire can handle heavy weights and loads, perfect for the larger Harley Davidson motorcycles built prior to 2009. The computer-optimized tread profile and offset center groove give you the confidence to safely ride in varying weather conditions.
4. Dunlop D401 Harley-Davidson Motorcycle Tires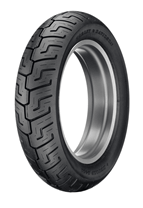 This classic cruiser tire was built to stand out among many, particularly because of its advanced tread patterns and H-rated speeds of up to 130 mph. The Dunlop D401 Harley-Davidson tire is ideal for cruisers, as it offers a remarkably impressive grip on both wet and dry roadways in tandem with consistently top-notch performance.
Many Harley Davidson owners who have tried the Dunlop D401 tire can attest to its compatibility with a variety of Harley Davidson motorcycle models.
5. D429 (OE HD Tire)

The co-branded D429 V-Twin tire incorporates a computer-optimized tread profile that facilitates an even wear throughout the lifespan of the tire.
One obvious benefit of the co-branding is that the D429 OE V-Twin tire meets the rigid demands of Harley Davidson.
When You Need New Harley Davidson Motorcycle Tires
Keep in mind that federal and state regulations require that motorcycle riders must have between 1/32″ to 2/32″ of tread depth on each of their tires for maximum safety. It's important to ensure that the middle of your tire's tread depth satisfies this requirement, because this is the part that makes most contact with the road.
If you notice any abnormal shifts in performance or balance while riding, check your tires for uneven wear, damage, and tread depth. . Remember, while it is tempting to want to patch tires up, safety should be your primary concern.
If you are looking for the most durable, high-traction tires for your bike, then we recommend Dunlop's Harley Davidson motorcycle tires. By far these are your best options for better mileage, improved technology, performance, and durability.
Since 1983, Harley-Davidson has equipped its motorcycles with Dunlop tires, and for obvious reasons: Dunlop tires are dubbed the top-selling choice in the U.S. for Motorcycle riders, sport bike enthusiasts, cruisers, and touring riders. Contact Dunlop Motorcycle Tires today to explore your options further.