The Best Tires for My Ducati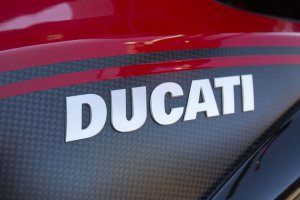 Choosing the best tires for your Ducati can be difficult because these bikes are so versatile. Using them for off-roading, urban roads, and racetracks is easy enough, but the tire set makes all the difference. Unless you are specifically using your Ducati for sport purposes, you will want to pick something that performs when city driving, as well.
Production of Ducati motorcycles began in the 1950s in Italy. In the 1960s, their 250 series road bikes became the fastest in the world, and brand recognition began increasing. Now, Ducati motorcycles are popular across the world for their fun handling and sporty track performance. However, even with their reputable design, these bikes need the right tires to perform at their highest level.
At Dunlop, we are the only brand that can say we manufacture DOT motorcycle tires in North America. Our design process involves gathering feedback and input from professional AMA racers, amateurs, and road racing events across the country.
In this article, we will examine four of the more popular Ducati motorcycles and which tires will work best for each, including:
Scrambler
Hypermotard
Monster
Multistrada
Scrambler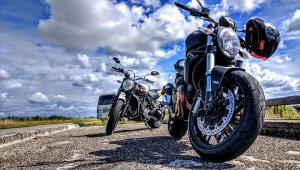 As a user-friendly bike that is perfect for riders at all levels, the Ducati Scrambler is a popular choice. There are six models to choose from and each has plenty of versatility for off-roading and city driving.
Tires for the Scrambler models need to combine good wet weather technology and sturdy tread that can grip the terrain it is working on.
The Sportmax Q3+ is an excellent option, with high-performance wicking capabilities that will keep you from sliding off the road. You could also look at the Sportmax Roadsmart IV, which works extremely well for high-mileage riders.
If you have a Desert Sled Scrambler, off-road terrain grip is going to be the most important component to look for in a tire. Because the Desert Sled model has almost eight inches of travel suspension, our Trailmax Mission tires are the best option. They have a robust tread design that creates great traction on dirt roads.
Hypermotard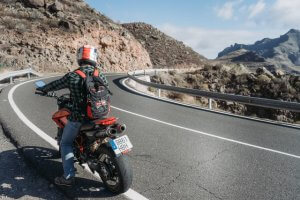 The Hypermotard is built for fun. Its performance on the racetrack and in urban areas is largely due to its minimalist, lightweight design. The tires that you will need for this bike depend on how you intend to use it.
For models like the Hypermotard 1100 EVO/SP or the SP 800, we recommend the Sportmax Q4 tire model. The treading on this tire is minimal due to the Dunlop Jointless Tread technology. With this tire, your bike will hit angles up to 62 degrees on the racetrack.
With the Sportmax Q4, you will not need tire warmers, and it is approved for use by the Department of Transportation. This means you can visit the track and ride home without needing to switch out tire sets first.
The newer Hypermotard 950/SP motorcycles work best with the Sportmax Q3+ tires, as they are optimized for track performance. Their carbon fiber sidewall reinforcement provides a better cornering experience, while the rear tire profile creates linear steering capability that feels great.
Monster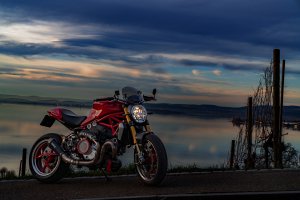 Ducati Monster bikes certainly pack a punch with quick handling. They have an aluminum frame that provides a lightness that other bikes simply cannot. For something this compact and adventurous, the Sportmax Q3+ or Roadsport II are good options.
These tires offer a good mix of performance and value that holds up well for the track, stunts, and urban riding. Putting these on a Ducati Monster will enhance the bike's agility and make the overall handling smooth, even for beginners.
Multistrada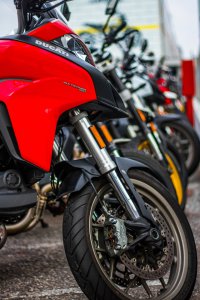 One of the best uses of the Ducati Multistrada is for travel. Long-distance riding on this bike model is a must, as it is particularly designed to adapt to the terrain beneath the tires. Plus, it has a sportier feel than some of the other models, so it can handle more than just everyday commutes.
Because it has travel built into its design concept, the tires for this bike need to be able to keep up. The Sportmax Roadsmart IV series of Dunlop tires can handle thousands of miles. With front and rear end resin to increase its longevity, the Roadsmart IV will improve your mileage without sacrificing grip.
If you are wanting to take it off-roading, the Trailmax Mission tires are your best choice. Their bold tread pattern is designed to make easy work of tricky terrain. The sport capabilities of the Multistrada combined with the strong grip of the Trailmax Mission tires is a powerful combination.
Contact Dunlop Motorcycle Tires today to get started on your order and get the most out of your Ducati.