Best Tires for My Adventure Motorcycle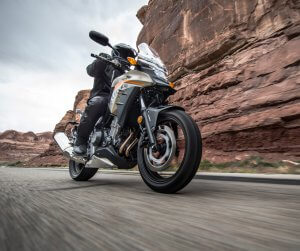 In a way, when motorcycles first came on the scene, they were all designed for adventure. With far fewer paved roadways, most riders needed the best tires that could withstand the rugged terrain of the countryside.
Even in today's world where many areas have seen more development and better-maintained roadways, adventure motorcyclists still seek out off-road experiences with rugged terrain. In addition to landscape considerations, riders need comfortable handling for long-distance trips.
While choosing the best tires for your adventure motorcycle, it is important to determine which characteristics and capabilities you need the most. Luckily, Dunlop can help you and your motorcycle get set up with the best tires possible for whatever adventure you have planned next:
Dunlop Trailmax Mission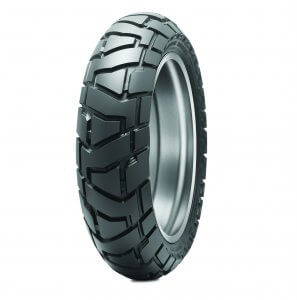 When it comes to modern adventure riding, the Dunlop Trailmax Mission is an absolute force of nature. It includes all the best design qualities you would look for in an adventure tire.
It is an optimal choice for many of the top-ranked adventure motorcycle models available today, including:
KTM 1290 SUPER ADVENTURE R
BMW G310GS
KTM 790 ADVENTURE R
HONDA AFRICA TWIN CRF1000L
BMW R1250GS ADVENTURE
HONDA XR650L
The Trailmax Mission has what is called a "Staggered Step" design. Rather than a consecutive tread pattern all around, the grooves are staggered to create a powerful, rigid experience in the contact path. This aggressive tread design allows for excellent grip in even the most unyielding terrain. It also provides you with more stability so that the handling feels smoother.
With strong wrap-around lugs, the edge of the tire remains well-protected from punctures and roadside hazards. And the deep grooves allow you to kick away water, dust, mud, and practically any other natural inconvenience so you can keep moving without interruption.
The Trailmax Mission tire took more than two years to develop but that time investment shows in its performance quality. That is what makes it a top contender in the hunt for the best adventure motorcycle tires.
Dunlop Mutant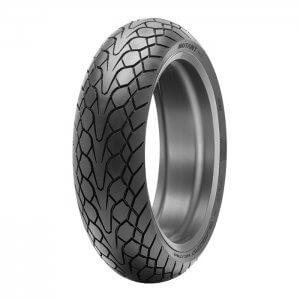 If you are an adventure rider with a preference for urban terrain, consider the Mutant.
This tire excels on the street but can convert to off-road terrain as well. It has a wide ground imprint that provides a larger traction surface area and even pressure distribution.
The tread compound is reinforced with silica and the groove pattern is intersected. These features ultimately extend the tire's longevity and allow you to clock more miles.
They also help your bike find solid traction—even in the most slippery or wet conditions. When disaster looms, these tires could end up saving a life.
Sportmax Roadsmart III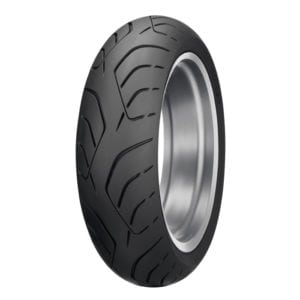 The Sportmax Roadsmart III is an all-around top choice because of its high-mileage performance.
The tire incorporates the Dunlop MT Multi-Tread™ design which gives you a strong tire center and excellent grip strength on the sides to help with cornering.
Like the Mutant, this tire has a wider footprint which increases overall longevity. The sidewall helps with shock absorption for those longer trips and the tread pattern helps you easily wick away water.
Overall, the Sportmax Roadsmart III works extremely well for riders who like to lean over, travel far, and those that adventure in any type of weather.
D606, D908RR, and Geomax EN91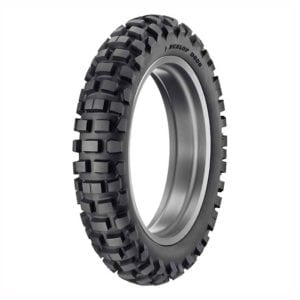 Unlike some of the wider tires previously mentioned, the D606 (pictured), D908RR, and Geomax EN91 have more aggressive tread pattern designs.
If you are one of those riders who loves a variety of difficult off-road terrain, you need a knobbier tread pattern that can keep up.
All these tires work brilliantly on sand and mud but are still DOT-approved for street and highway use as well.
Their design is noticeably knobbier than some of the other adventure tire options, which is perfect if you prefer to find tucked away areas and corners of the world where others dare not go.
Choosing the Best Adventure Motorcycle Tires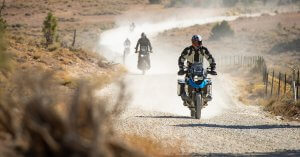 The tires you purchase for your adventure motorcycle can drastically impact the feel of each ride. Not only that, but a great set of tires can give you more confidence when banking, stunt riding, or traversing the desert on four wheels. As such, your motorcycle tires should have:
Rugged tread pattern for both the street and dirt
Durable sidewall composition to absorb shock and protect against road hazards
Long-distance road performance capabilities
When you decide which tires to put on your motorcycle, pick the ones that most accurately reflect your style. If you are someone who ventures off-road periodically but also really enjoys street riding, you might go with the Trailmax Mission.
On the other hand, if you wish that you rode on the highway more but typically always find yourself in remote, dirty, dusty, tricky areas; you would be better off with a knobby tire like the Geomax EN91.
Selecting the right tire is more about how you plan to ride—not what riding you wish you did more of. By choosing the tire that defines your riding style, you will find that your love of adventure grows even more.
Ready to get your journey into the great unknown started? Contact Dunlop Motorcycle Tires today to place an order and start gearing up for your latest adventure.