Best Motocross Off-Road Tires for MX Bikes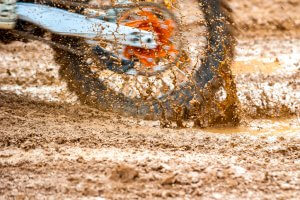 The race against time never ends, least of all for motorcycle riders seeking to shave seconds off their laps! Motocross riders particularly love this challenge, and they feed on the opportunity to ride rough terrain as quickly as they can on their MX bikes.
Born in Britain during the early 1900s, motocross racing initially went by the name "scramble racing." That name suited the sport well, given its unforgiving and simple goal: scramble to be the first one to the finish line—no matter what it takes.
As the sport grew in popularity, motorcycle manufacturers began producing bikes capable of speed and precision. Riders needed tires with a bolder tread pattern to traverse rugged trails and backcountry landscapes.
Technological advancements in the motorcycles themselves challenged tire manufacturers to think outside the box. Today, there is an entire market segment dedicated to MX bikes and off-road tires.
Trail Bikes vs MX Bikes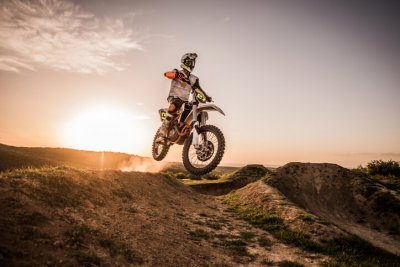 Motocross bikes and trail dirt bikes have many features in common. They are both intended for rough riding, so they are lean as far as motorcycles, in general, are concerned. Between the two, however, there are several differences that may impact the tires you choose.
Most of the variation is in the handling and feel of the bikes. And this makes sense given that riders use MX and trail bikes in different environments. While MX bikes are typically ridden in established trails with more predictable conditions, trail dirt bikes go more off the beaten path.
Because of the unpredictability of off-road trails compared to MX tracks, off-road bikes have an overall heavier suspension. This allows the rider to maintain balance at slower speeds. You may also find more accessories on trail bikes, including:
Headlights
Skid plates
Radiator guards
Engine cowls
Additional front shield coverage
Quieter exhaust systems
Wider gear ratios
MX bikes typically do not come with all these features, given that the handline experience is designed for a lighter frame. Riders need to have nimble turning and climbing capabilities while racing. That is why designers seek to eliminate as many features as possible on these models.
If the overall goal of MX motorcycle design is to achieve the greatest endurance and agility at the lowest weight possible, the tires need to be as aggressive and unimposing as possible.
One of only two motorcycle tire manufacturers left in North America, Dunlop Tires has several options in their off-road lineup that best suit MX bikes.
Dunlop Tires for MX Bikes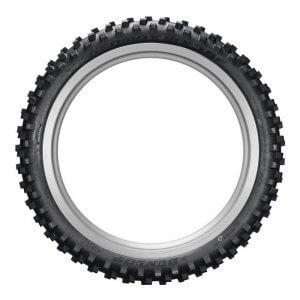 One of the most successful off-road tires of all time, the Dunlop Geomax series puts its competition to shame. This lineup is responsible for each AMA Pro Motocross and Supercross title victory since 2010!
The Geomax series includes several on/off-road hybrid tires with one even being DOT-approved. However, for serious motocross racers, the Geomax MX series tires were developed specifically to complement MX bikes.
MX12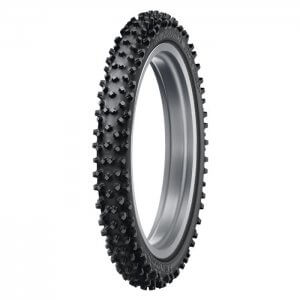 The Geomax MX12 is a relatively newer model that made its debut in 2017. You can make your way through tough ruts with this tire, given its narrower profile.
It excels on mud and sand courses where its abilities in wet conditions can shine. If you compete in a wetter climate or frequently race on these types of terrain, this tire is a great option.
MX33 and MX53
For riders who prefer soft-to-intermediate terrain, the MX33 is the top contender, and for riders who prefer intermediate-to-hard terrain, the MX53 is the top choice.  Whether you are a serious MX racer or treat it as a hobby, the MX33 and MX53 will work well for you. Both models feature Block-In-A-Block rear tread patterns which provides extra grip. This is so that you can stay on course without slipping or losing traction and valuable time.
The design team at Dunlop partnered with some of the top AMA riders in the world to create and optimize these tires for the MX bikes.
MX3S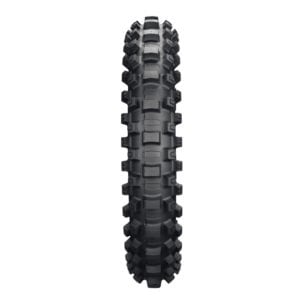 For riders who prefer soft-to-intermediate terrain, the MX3S is another choice. The tire construction is flexible to allow riders more accuracy when traversing on shifting landscapes. You can see evidence of this performance in the tires' race history. In 2013 alone, riders won 60 AMA races using these tires.
These tires were made to handle forgiving ground conditions, but you can still use them on more packed dirt surfaces. Tests showed that the MX3S maintains its handling experience even on harder surfaces, so this leaves the option available for riders who like variety.
Finding Tires for Your Bike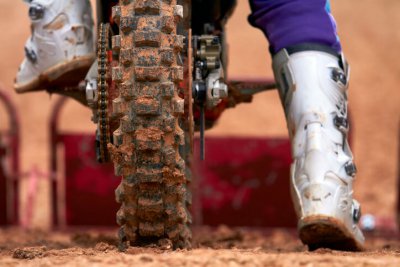 As you consider which of these award-winning tires to purchase for your MX bikes, you may find the Dunlop tire search feature helpful. You can search by motorcycle model, tire size, or tire type.
The site will generate options to fit your specified criteria and help you narrow down your options. It also has detailed profiles on each tire mentioned in this guide so that you can learn more about which are the best tires for your MX bike.
Once you have the perfect set of off-road tires, get back out there and start beating the clock again!
Dunlop Motorcycle Tires offers a wide variety of tires for MX bikes and trail bikes. If you are not sure which tires are best for your situation, one of our professionals will be able to help you. Check out our locations and get your tires today.